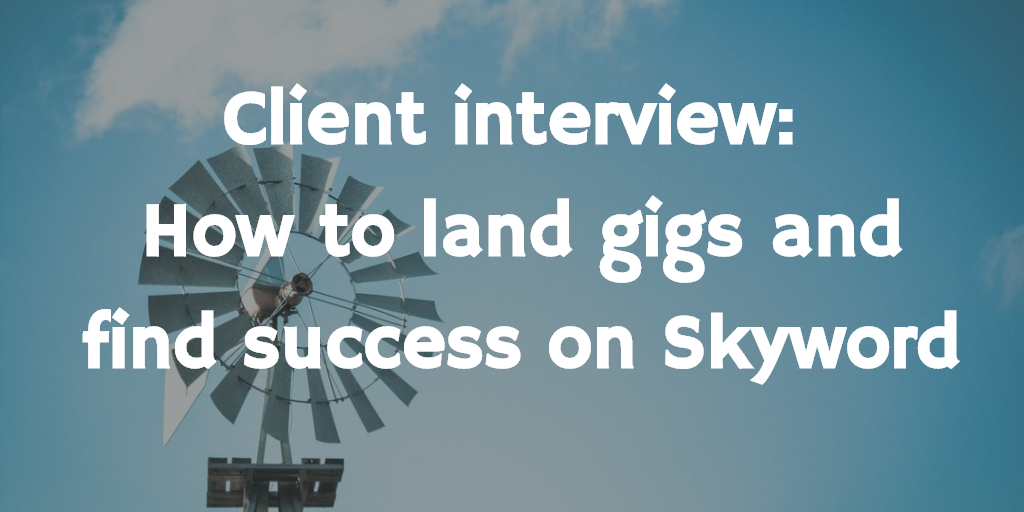 If you're looking for another way to land gigs, Skyword might be a good option. In case you haven't of the company, Skyword is a content creation and marketing platform that helps brands tell their story and take their content strategy to the next level.
Skyword connects content creators (such as writers) with its clients, so contributors get access to paid gigs while brands get quality content for their marketing campaigns.
I'm a Skyword contributor myself, and I'm quite happy with the company. The editors — at least the ones I've worked with — are incredibly helpful, and the assignments they've sent me are always interesting and right up my alley.
But instead of just talking about my experience with the platform, I figured it would be great to bring Skyword into the conversation. I caught up with Molly Berry, Skyword's Community Manager, and asked her to share more details about how Skyword connects writers with clients, and what companies are looking for when hiring contributors.
Read our interview below or jump to a section using these quick links:
How does the Skyword team select writers?
It all starts with the client, says Molly.
"Our editorial and strategy team works very closely with the client to determine the direction of the content, and who we need to make sure we deliver," she shares. "Sometimes clients are looking for more of a social boost, while some of them want a writer who can do interviews or research. So it really depends on what the client is asking for."
"Before I start any project, I always get a full debrief from the editor. I work with the editorial team to get a better understanding of who we need to bring on board. I then take those criteria and start searching for writers."
When writers join Skyword, they can create contributor profiles, where they can showcase their bio, experience, and samples. When searching for writers, Molly says she always starts looking through Skyword's database.
"We have a pool of contributors, and I'd always rather use people who have signed up to work with us. Writers can create a profile with us, so we have this big database of contributors who we know are eager for work. Naturally, I always like to put our writers to work first."
She continues, "I always coach contributors to keep their profiles up-to-date and have a lot of samples. And the reason for that is because we're able to use a search tool in our database where we can take certain criteria (e.g. keywords tied to a specific industry experience, interview skills, or a well-defined niche) and then use those keywords to search people's profiles. So if a keyword is mentioned in their profile or in any of the samples they've uploaded, they will come up as a match."
"We then vet every writer that we think could be a strong fit. We pull representative samples that we show to the client, and we copy their bios to get a full picture. That goes through 3 rounds of vetting. So it starts with me and my co-worker Lauren, and then it goes to the editorial team leading the program. And then from there, the client has the final approval on who they want to move forward with."
Key takeaways
Beef up your profile!
Come up with an attractive bio
Upload relevant samples
Make sure your profile contains the right keywords
Plan B: if they can't find writers in their database…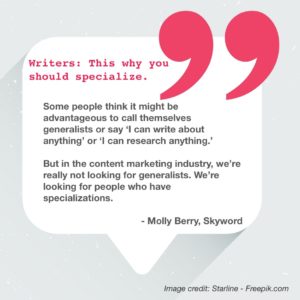 If the Skyword team can't find the right contributors within their network, Molly says they will use other means to find writers.
"If we can't find who we're looking for on our platform, we custom-recruit. We use those same keywords and go through several different tools — such as Google search, Linkedin, or Traackr technology — to find people who specialize in the niche we're looking for."
Speaking of specialization, Molly adds that writers should choose to focus on certain niches instead of trying to write about everything under the sun.
"Identifying your niche is really important. Some people think it might be advantageous to call themselves generalists or say 'I can write about anything' or 'I can research anything,' but in the content marketing industry, we're really not looking for generalists. We're looking for people who have specializations."
Key takeaways
Choose to specialize. Find a niche and own it.

Increase your visibility in search engines and social networks. You can do this by:
Having a writer website that clearly communicates who you are, what you do, and what you specialize in

Publishing posts on relevant websites and publications

Making sure that your social network profiles (i.e. LinkedIn, Twitter, Facebook) contain the right information and keywords. See to it that your profiles are relevant and attractive to the clients you want to attract.

(Note from Francesca: I can attest to this! Skyword found me through LinkedIn.)
What do clients look for in contributors?
Molly said that qualifications vary depending on the client and their needs. Generally, though, clients look for contributors who have great writing samples, relevant experience, and in many cases, a strong social media presence.
"There are clients who come in with very specific goals. So if they need, say, a business or financial writer, they might say 'Anyone published in the Wall Street Journal will probably be a strong candidate.'"
"Social following can be a make or break for some clients. They want to see a certain number of followers or a certain level of engagement. That applies to websites like Twitter, Linkedin, and Facebook. You never know what audience the client is after. A lot of lifestyle brands connect with moms, and moms are really big on Facebook, so that would be an important factor for them. So platform and social following matter."
In some cases, Molly says that clients might look for people who have first-hand industry experience.
"Some clients look for 'practitioners' — people who have experience in their industry. So maybe they're a doctor, or they have been an engineer. In short, these clients want to see that the contributors have industry experience."
Advice for writers who want to join Skyword
"If you choose to sign up and be part of our community, be sure to treat your profile like a breathing, living document. See to it that your bio fully expresses your area of specialization and niche."
"Your profile should also showcase the depth of your experience, the publications you've been in, and your experience in that space if you've been a practitioner."
Molly also emphasizes the importance of having good writing samples.
"Upload a variety of samples," she advises. "We only require you to add three when you first sign up, but it's always better to have 10, 20, 30, 40, or whatever, as long as they really show the depth of your experience."
"Something we see often is people will say 'Oh, I've been in the computer engineering space for the last 20 years and I have so much experience…' But then they attach three sports samples that don't back up what they've talked about. I'd rather in their bio that they said they were a sports enthusiast instead of an engineer. So again, make sure there's cohesion between your samples and bio."
Key takeaways
 K

eep your profile updated! It's not something you should "set and forget." As Molly says, treat it like a living, breathing document.

Upload plenty of samples and make sure they're relevant to your bio and industry
How much do writers get paid?
Short answer: it depends.
"If it's short form, lifestyle content, then it's going to pay less than an in-depth technology whitepaper," she says.
"Other factors come into play as well. For instance, if an interview is involved, or if we want you to take an asset and turn it into something else. It truly depends on the program and the depth."
Note from Francesca: Just to give you an idea, for one of the programs I've worked on, the rate was $250 for short-form articles. The niche was retail technology, and the content was geared towards C-level execs and decision-makers.
Now I'm working with Skyword on another program (still in the retail technology space), and the rate is $250 for short-form posts and $500 for long-from pieces.
One downside, though, is that you might not get paid right away. Contributors get paid after the content is approved, and this can sometimes take a while depending on how quickly the client provides feedback. That said, they make an effort to approve articles as quickly as possible and pay on a bi-monthly pay cycle, so you know when to expect your payment.
Resources
If you want to learn more about Skyword and its contributor community, check out the following links:
Create for Skyword – This page provides more information for content creators. You can also sign up through this link.
@skywordCM – Skyword's community management Twitter account.
Content Standard – Storytelling – The contributor-focused section of Skyword's publication
Your turn
Do you have any experience writing for Skyword (or similar content platforms)? Share your story in the comments below.