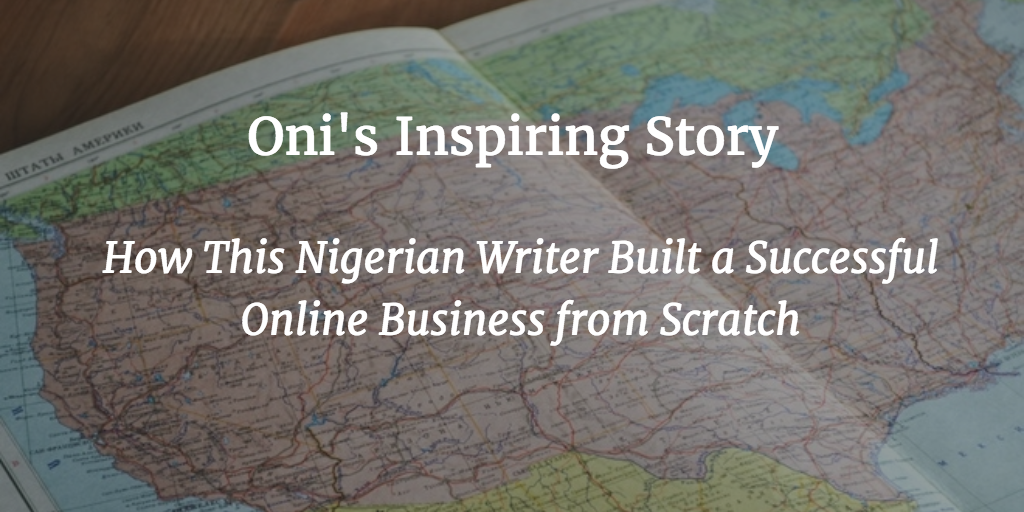 When Nigerian writer and blogger Bamidele Onibalusi started his online business in 2009, he had limited funds and no access to electricity, let alone an Internet connection. Throw in the fact that he's from Nigeria, a country known for Internet scams, and most would agree he was fighting an uphill battle.
But Bamidele didn't let any of that stop him from venturing into freelance writing and blogging. He found a way around his money and electricity issues by partnering with a local café owner to get access to a computer and a web connection. And when people doubted his credibility because he was from Nigeria, he stayed professional and delivered superior content that proved he was the real deal.
Today, Bamidele makes a great living as a freelance writer, earning four, sometimes five figures per month. His website, WritersinCharge.com, is hugely popular, with some posts garnering hundreds of thousands of page views. He's also been featured on sites such as Forbes, Huffington Post, and Digital Journal.
Needless to say, Bamidele's story is incredibly inspiring. So you could just imagine how thrilled and honored I was when he agreed to do an interview with me. In our chat, Bamidele and I discussed his writing/blogging career and I asked him to share his words of wisdom for other writers. Read through it below and you'll learn:
How Bamidele started his writing career

How he landed his first client

The rates that he charges

His biggest challenges as a freelance writer/blogger (and how he overcomes them)

His advice for aspiring writers who lack the confidence to go after top-notch clients or projects
Check out our conversation below:
Hi Bamidele, could you please tell us a bit more about yourself and how you got started freelance writing?
I'm Bamidele Onibalusi, a young entrepreneur and freelance writer from Nigeria. I got into freelance writing accidentally in 2010: I heard that it was possible to make money online, so I started blogging. After blogging for a whole year and barely making money, I got my first client and soon had my first four figure month. This made me realize the potential of freelance writing, and the rest, as they say, is history.
How did you land that first client?
I got my first client through my blog. I've gotten a few offers before but never took them seriously, because I had always assumed that freelance writing is the kind of job people bid for on sites like oDesk and Elance, and that it pays pittance. When my first potential client reached out through my blog, I asked him what he had in mind — including how much he was willing to pay. I happily jumped at the opportunity to work with him when I heard what he had to offer.
And the fact that you're in Nigeria never became an issue with this client, or anyone else? If it did become a concern, how did you deal with it?
It's rarely ever been an issue. Before I got my first client, I've written for some very big blogs including Problogger, ReadWriteWeb and Business Insider. This established my credibility, and my first client (and many clients after) made reference to this when they discuss my services.
I've had to deal with a client who wasn't respectful enough probably because I'm a non-native English writer; he was asking me to prove myself, etc. I eventually had to let him go.
I believe an advantage I've always had was my blog. Clients came in regularly, so it is easy to ignore those who are prejudiced against me or those who are not ready to take me seriously. That said, I've published articles — and eventually been featured — in some really great publications, so that helped my reputation and credibility.
How did you set your rates? Did you just go with what your first client had in mind?
Yes, I went with what my first client had in mind. Back then, I would have been extraordinarily happy if he offered $30 – $40 per article. He offered $100, so I simply went with what he had in mind.
Have you raised your rates since then? How did you communicate it with your clients?
I've since raised my rates, and I've charged as much as ten times that amount per article several times. Now, generally, I don't work at less than $250 per article and I charge client $.30 to $.35 per word on average. It all depends on my availability and several factors.
Often times, I don't have to raise rates with old clients since new clients keep coming in. I just tell new clients my rates. If I tell an old client my new rate and he doesn't agree with it, I simply end the relationship if I feel it won't benefit me anymore.
How does your payment process work, do you charge a partial or the full amount upfront?
Here's how the payment process works: I usually charge 100 percent upfront for the first few projects. If they aren't very comfortable with that, I charge 50 percent upfront. Once our relationship is established, I can decide to get paid after work: since they've proven that payment won't be an issue, and if they pay on time, this shouldn't be a problem.
Sometimes, I break this rule and don't charge new clients upfront at all: it depends on the nature of work, how much I feel I can trust them and my instincts generally. It's very rare this happens, but I've found it's safer to stick to my process.
Is your blog your main source of clients? Or do you implement other marketing strategies?
Yes, it is. I've experimented with other strategies, too: for example, I embarked on a cold pitching experiment last year and landed a major client. I've also gotten a number of referral clients from others.
Other than that, or occasionally for the sake of experimenting, I get majority of my clients from my blog.
What are the biggest challenges you face as a freelance writer?
Hmmm… here's it in order of importance:
I've easily had five figure months, but some months I struggle not because there aren't opportunities but because I don't have enough motivation to work.

As freelance writers, our income is related to how much work we can do. My biggest struggle has been with motivation; when I am motivated, I earn big. When I'm not, my income suffers.

My projects suffer: When I have a lot of client work, it's easy to lose track of my own projects. My blog, other projects, etc. They all suffer sometimes due to lack of focus.
How do you deal with these challenges?
I'll be lying if I said I have a permanent solution, especially to problem #2. However, I use the same process to deal with both challenges: I set goals and prepare a schedule. I then let myself know that sticking to this schedule isn't a matter of will or want, but something I have to do.
It's not always been easy, but it works. For example, I recently used this to motivate myself to work on a almost 30,000 words project for one of my clients within 2 weeks.
It also helps if I have a major goal: For example, my farm. I have some expansion goals for it and this needs money. Naturally, if I don't work there won't be money so I have to work. These kind of goals motivate me to work more than anything else.
Do you have any advice for other aspiring writers? Particularly those who lack confidence because they're not from developed countries like the US, Canada, UK, etc?
Yes, I do:
Be confident: I get MANY emails from non-native English writers who are afraid clients won't take them serious. Often, it is in their heads. They haven't even tried.

I believe they'll get great results if they start focusing on what value they can offer to clients instead of where they are from.

Build social proof: Even if you're a native English writer, things won't necessarily be easy.

I know countless native English writers who can't charge a fraction of the rates I've charged, so it is not all about being in the US, Canada, UK, etc. Sometimes, social proof can make a lot of difference. Look for really big blogs and publications and get featured on them.

And don't tell me you can't: if you're a writer and can't get published on one or two major blogs/publications, then do you really have anything of value to offer clients?

Be Tenacious:

Rejections will happen, and people will ridicule you. Instead of seeing it as something that has to do with your race/nationality, see it is a challenge that requires you to prove yourself.

Be resolute, and don't give up no matter what.
Key takeaways
Hopefully you were able to pick up some actionable insights from our interview above. Bamidele provided tons of excellent nuggets, and some of my favorites include:
Get into guest posting.

It's a great way to build credibility and social proof. Plus you can get great portfolio pieces while you're at it.
Commit to your writing goals. If you lack motivation, get yourself on a schedule and stick to it. Also, don't let naysayers kill your motivation.

View rejections or ridicule as challenges to prove yourself.
Don't get too caught up in your disadvantages (ex: not being a native English speaker). As Bamidele puts it,

you'll get great results if you focus on the value you can offer rather than where you're from or what you can't do.
Your turn
What did you think of the interview above? Got your own inspiring story to tell? Share your thoughts in the comments.