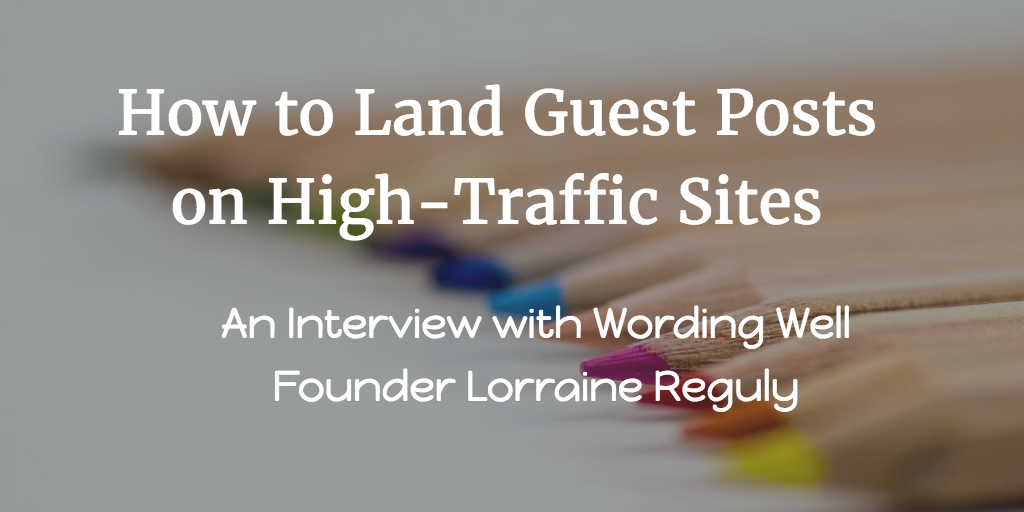 If you're new to freelance writing and your portfolio pieces are limited (or non-existent) then you should seriously consider guest blogging. Writing guest articles on other sites is an effective way to score clips and connect with people in your niche. Plus, it's great writing practice.
That said, landing guest posts on quality sites is no cakewalk. Guest posting guidelines vary from blog to blog, so tailoring your pitch is critical. Additionally, high-traffic websites get tons of guest post requests, which means your pitch needs to rock the site editor's socks off.
It takes effort, but when done right, guest blogging can pay off — literally.
So, how exactly can you find success guest blogging? That's where today's interviewee comes in. I recently caught up with Lorraine Reguly, founder of Wording Well. She's a freelance writer, coach/mentor, and author assistant who not only makes a living writing, but has also landed posts on several high quality sites such as Kikolani and Make a Living Writing. She's also written for ProBlogger, a site that doesn't accept unsolicited guest posts.
How did she do it?
Read the rest of this article to learn about Lorraine's experience.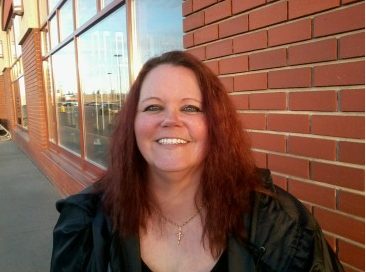 Connect with bloggers to improve your pitch success rate
Lorraine puts a lot of effort into building relationships before she even sends a pitch. She becomes a blog reader before guest poster, and this has earned her a near-perfect success rate when pitching ideas.
"I try to connect with the owners before even attempting to ask for a guest post position," she said. "I read their blogs, I leave interesting and memorable comments, then I connect with them on social media whether it's Twitter, Facebook… wherever."
Lorraine stresses that it takes time to establish relationships with bloggers and that people shouldn't expect to immediately get their foot in the door.
Most people don't realize this, but it takes time to get to know people online.  And having just one or two simple interactions with them is not the way I recommend to anyone to approach guest posting.
Takeaways
Don't send pitches to blogs you barely know. Become a reader of their blog and get to know the people behind the site as well as their readers.

Leave thoughtful comments. Remarks such as "great post!" won't cut it. Be memorable. Share stories, provide advice, and add value to the conversation.

Follow the site owners on social media. Interact with them on a human level. Find out their interests, hobbies, etc., and talk about them! 

For example, talk about your cat, your guilty pleasure of sneaking a chocolate, or your favourite TV show. Many people like Survivor and Dancing With the Stars! The key is to be genuine, not fake. Most people will see right through you if you are fake or phony.

Above all, be consistent and don't expect immediate results. Take the time to build relationships and genuinely get to know the people you're interacting with.
How to make your pitches irresistible
Once she has her foot in the door, Lorraine proceeds to pitching her idea. Here's how she does it:
Once I've established a rapport, I then think of something I can offer their audience that they haven't already got on their website. Providing value to them is my number one priority.
When I reach out to them I also mention that my post will be completely edited and error-free because I'm also an editor and a teacher.
Occasionally, I might namedrop. I might mention my post on ProBlogger, for example, or I might mention someone's name that I know that they know.  So at least we have a commonality of a certain influence or a certain person in common.
I often mention and link to a post that I wrote for Dear Blogger that talks about the proper guest posting and guest hosting practices as well, which not only adds credibility to what I'm saying, but intrigues them enough to seriously consider having me as their guest.
Because of this, they know that I'm not going to just say, "Okay, well, here's the post," and that's it… boom, I'm done. They also will know that I'm not only doing it for a backlink or something like that (although that is one of the benefits of guest posting).
I think that's why a lot of people now are really taking a look at who they're allowing on their websites as guests because you really do have to follow certain etiquette and a lot of new bloggers don't realize that.
Takeaways
Pitch a post for a topic or angle that they haven't covered yet, then explain how you can provide value to them and their audience.

Don't be afraid to namedrop. It doesn't have to be someone famous. It could be someone you both know.

As you gain experience and clips, you can start mentioning the sites that you've guest posted for in the past. Include those links in your pitch.

Eliminate risk. Bloggers are wary of people who are only after a backlink or who won't engage their audience. Make it clear that you're serious about guest posting on their site and that you won't just "post and run."
How to come up with spot-on ideas and content
I also asked Lorraine about her process for coming up with ideas. Here's what she had to say:
I do my research and I take a look at their posts they already have. Then I ask myself, what can I link to?
If you prove that you've done your research and you say, "Okay, look.  I noticed you have a post about blogging in social media but you don't have a post about marketing to your blogging audience."
From there, you can make them see that there's a void, and you want to fill that void with a piece that's going to be of value to their audience. If you prove that you've done your homework, they'll be more likely to say "yes" to you!.
So that's what I basically do.  I just take a look and determine what they have on their site already and what they need!
Takeaways
Read the blog's existing posts and find content gaps. Is there a topic they haven't covered yet? Can you write a "sequel" to an article they already have?

Tell the blog owner (or whoever their gatekeeper is) that you're planning to link to their existing content. Show them that you've done your research.
Getting on highly competitive blogs
Lorraine and I also talked about how she secured a guest post on ProBlogger, a site that isn't accepting unsolicited posts. Here's how it happened:
When I landed my post on ProBlogger, I initially connected with one of their contributors. I had seen her around the web a few times, so I formed a relationship with her. After some time, I talked to her about SHE got a spot on ProBlogger and asked how I could do the same.
That's when she referred me to one of the site's editors. I built a relationship with her (the editor) by reading her content, leaving memorable comments, and following her on social media.
We connected, established rapport, and THEN I talked to her about my post ideas for ProBlogger.
The rest, as they say, is history.
Takeaways
Want to write for sites at the top of the guest blogging food chain? Build relationships with the people running the sites.

Establish rapport, provide value, and form genuine connections with them. (Hint: Remember the advice we gave you about connecting with writers? Do that.)
Bottom line
If there's one thing Lorraine taught us about guest posting, it's that you need to be patient. It takes time to build relationships, come up with killer ideas, and write amazing content.
But if you do it right, guest blogging can lead to more exposure, clips, and clients. And you'll likely make a lot of great friends along the way.
What's your take on guest blogging? Let us know in the comments.