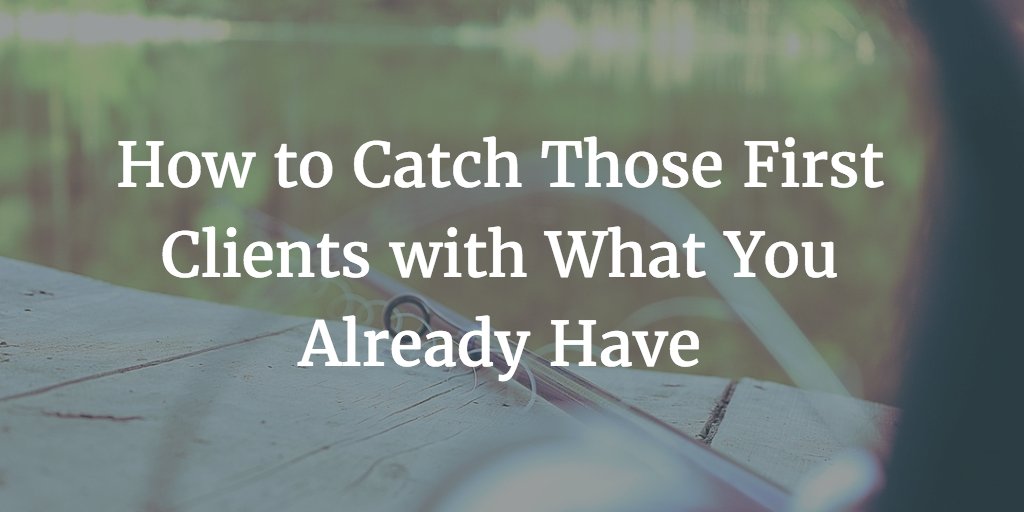 This is a guest post by Pinar Tarhan.
When you are a new freelance blogger, it's easy to focus on the clips you don't have. And if you don't have experience, what will you say in your pitch?
And what if you have experience, but in completely different niches than you want to break into?
Luckily, you've lived a life before this career move. You've got your interests, education, and address. You also have a resume, personal life, and network. Before fearing you don't have any expertise, let's make sure you're taking advantage of these:
Interests
Anything you do for fun goes. Your favorite band, that TV show you can't stand, fishing, and traveling are all fair game.
One of my first-ever writing gigs was writing for a music trivia site. Sure, the pay was horrible, but it still paid better than content mills and got my foot in the door.
Successful freelance writer and coach Elna Cain mined the job boards for her first client: "I received one response back from a pitch, and they ended up hiring me to write about cars (something I was remotely interested in). I continue to write for them and they are great clients."
And while some niches do generally pay better than others, there is almost always demand for a writer who knows her pop culture trivia, knitting, model trains, cleaning effectively, or surviving in the wilderness. The only limit is your imagination. If you are into something, chances are there are at least a few paying markets that want to serve readers like you.
If you can't find a well-paying market that accepts pitches from not-so-experienced writers, or that you can't seem to get your lucky break, try posting a well-written sample piece on your own blog or an established publication that accepts guest posts.
I got my first career management clip on Brazen Blog because I used a unique angle using the British/American TV series Episodes. I later published a (paid) piece on GoWeLoveIt drawing from my love for the series Suits.
Education
What did you study in university? Were you homeschooled? What topics did you hate in high school?
One of my first paying gigs was a set of business articles for a handbag company. I virtually didn't have any clips to show them when I pitched, but I had written essays during my Business and Advertising BA. Just because you didn't previously write about something doesn't mean you can't prove credibility and authority using other means.
Location
You know how you scoff at tourists because they don't know anything? But you do. If you aren't traveling as much as you'd like, you can first sell yourself as an expert of your town or city. Even if you live in a tourist-favorite like I do, you still have the advantage of being an insider.
I love being a tourist guide for friends who want to have a non-guidebooks experience. So I take them to the places locals hang out: Places that are less or never featured in travel articles, but are almost always more beautiful and cheaper.
So when clients find me to use my experience about Istanbul, my home city, I proudly pitch myself as an expert. You see, there are a ton of how-to articles online about how to write effectively and entertainingly about a topic. And as a writer, learning about how to write about a familiar topic is usually easier and more fun than learning about a topic from scratch.
I've completed three mini tourist guides and have gone on to write many travel articles since then. You should always remember to ask for referrals, and jot down specific experiences. Because some travel articles require specific cultural or individualistic slants. So remember to take notes about the nice waiters and the rude ones, quaint decoration ideas, that weird restaurant owner who won't let you take pictures… They all belong in an article.
Experienced writer, blogger and mentor Lauren Tharp used her location (and marketing skills) to land her first client. She put an ad on Craigslist some years ago: "I simply stated that I was a freelance writer in the Los Angeles area, and I guess that's exactly what they needed!"
Personal Life
Your kids or lack of, dates, significant other, mistakes, successes, lessons learned… You can look back into your memories and get paid for uplifting and/or teaching your (first) clients' target audience.
I live with my parents to save money so that I can move abroad faster. What makes this a bit "strange" is that I'm 31. So guess what where I published an article on how this strangely benefits my dating life? The Washington Post.
Always look for the different angle. Also look for emerging trends, changing behavior and what sets you apart from others. For that article, I combined an American trend and a personal choice. I'm currently looking for the right home to write about my Tinder experiences. Remember, if you have never used Tinder or other dating apps, there is probably a place for that article too.
Job Experience
Whether you worked as a nurse, teacher, therapist or janitor, you have insider experience of at least one industry. Match your resume to a few potential niches, and you've got those clients!
I have several career management clips on my blog, and all the ideas were born during my internships (I've had three), one full-time office job and countless interviews I've endured as well as interview horror/success stories I learned from my friends.
Whatever your work background is, there is a story there. Of course, if you've had industry experience in finance, healthcare or tech, even better. If you jumped straight from college to full-time freelance writing, that's at least one story right there.
People You Already Know
This is the most straightforward way: Have you let everyone know you are freelancing now? Many freelance bloggers got their first clients through their existing network.
I've had many clients come to me via referrals including from my college alumni and teachers, and writer and bloggers I've developed a relationship with online. I obtained my first social media management jobs that way.
Not all referrals lead to jobs, but it is a channel worth exploring. And the more you effectively network and the more people you genuinely impress with your knowledge,
professionalism and easy-going behavior, the more profitable and desirable gigs will fall into your lap.
Freelance writer and content strategist Ashley Gainer utilized her network, and even her network's network: "My first freelancing clients came from my network. Actually, the majority of my freelancing gigs (well over half) have come from my network, both of in-person contacts and my freelancing colleagues. Never, ever, ever underestimate the power of the people you know. It's not necessarily just about your contacts — it's about your contacts' contacts, too."
*
There you go. You already have more to write about (aka valuable life experience) than you know what to do with. Pick a topic, a market, or both and get pitching.
And don't forget to share in the comments how you (plan to) mine these categories.
Bio: Pinar Tarhan is a freelance writer, writing coach and social media consultant for hire. She specializes in career management, relationships, productivity, social media, blogging and freelancing. You can catch her updates on Addicted to Writing and follow her @zoeyclark on Twitter.