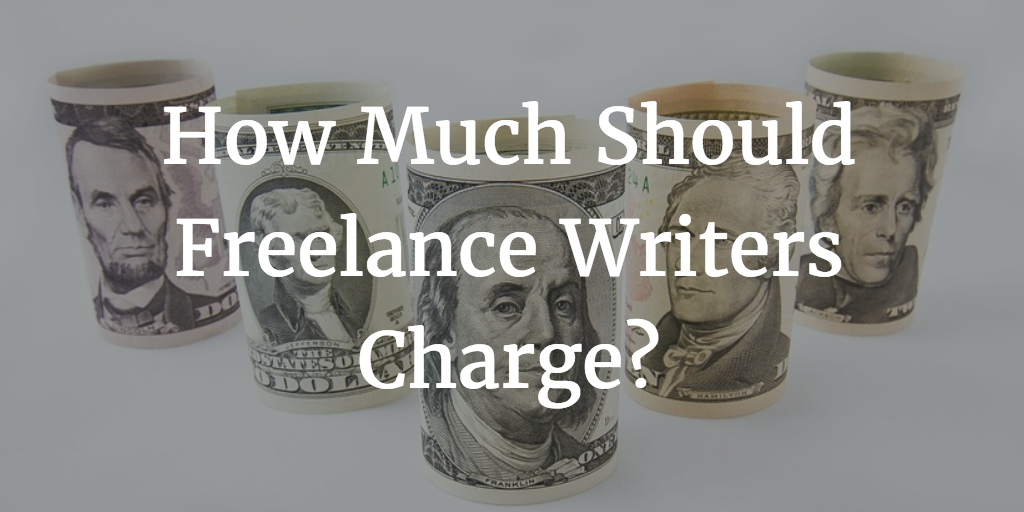 "How much should I charge for my freelance writing services?"
I wish there was a definitive answer to this question. But the fact is, a freelancer's rates will depend on several of factors, including your living/working expenses, your experience, and the type of content you're producing, among other things.
It can be tricky to figure out how much to charge, but with a bit of introspection and research, you should be able to determine the best prices for your services.
In this post, we'll discuss the steps you should take when determining your rates, as well as the tools you can use for the task. If you're unsure about how much to charge, this post will point you in the right direction.
Ready to get started? Dive in below or jump straight to a specific section:
1. Determine your minimum rate
Calculate the minimum amount that you need to charge. Freelance writer Paul Maplesden explains this process incredibly well in his post on determining your "Walk Away" price.
Your "Walk Away" price, according to Paul, is the "price that you can't / won't go below for a simple reason — If you do, you simply won't have enough to live on. In other words, it's a hard, non-negotiable stopping point."
He recommends an excellent process for how writers can find their "Walk Away" price, and I've summarized the steps below. Also be sure to check out his original post for the full details.
Work out your monthly household costs — How much you need to live on

– Calculate the amount of money you need to cover all your monthly expenses (e.g. rent, utilities, food)

Work out your monthly business costs — How much you spend on your business

– Calculate the amount of money required to run your business. Such expenses could include office space, computer costs, web hosting, office supplies, etc.

Add together the costs from steps 1 and 2

– Add together your living and business expenses plus an additional 30% to cover taxes and other costs.

Calculate how many hours you are going to be able to charge to clients

– Determine your "billable hours" — i.e the amount of time spent on actual client work. This figure DOES NOT include admin work or time spent marketing your own business.

Divide the figure from step 3 (total cost) with the figure from step 4 (hours billed)

– This will tell you the minimum amount you should charge to cover your expenses.

Build your walk away price into your pricing

– Determine the amount of time you need to finish a project, and work your "Walk Away" price into that figure.

Remember that anything over the walk away price is profit

–

At this stage, you already have a solid idea of the minimum amount to charge — great! Does that mean you should stick to that minimum rate? Of course not.
You can — and should — set your rates in such a way so they more than cover your "Walk Away" price. As I mentioned in the beginning, your expenses are just one factor when determining your price.
And that brings us to our next point…
2. Factor in these 3 components when deciding what to charge
In addition to your living and working expenses, you should also look at these three factors when setting your rates:
Content type
Not all content types are created equal. Research-backed whitepapers will naturally cost more than email newsletters. A 500-word blog post that requires very little research will cost less than a 500-word case study that requires interviews.
When setting your rates, consider the type of content, as well as the work that you need to put in, and then factor all that into your price. There aren't any hard and fast rules for how to do this, but below is a quick summary of different content types and how much they cost. (Note: figures are based on research as well as my personal experience when I was a new freelance writer.)
Blog posts – Pricing for blog posts can range from a few bucks to $100 or even $500+ when they're written by absolute pros. You may not be a huge pro blogger yet, but do yourself a favor and steer clear from those 5-dollar blog posts. Trust me, even relatively new bloggers can charge  AT LEAST $50 per post.
Don't believe me? Check out freelance blogger Sophie Lizard's Ultimate List of Better-Paid Blogging Gigs: 75 Blogs That Will Pay You $50 or More or Bamidele Onibalusi's post that lists 110 Websites that Pay Writers.
Press releases – Publicity firms and press release distribution companies charge hundreds of dollars just to write these articles. PRWeb for instance, charges $325 per release. That's why $200 or $150 to write a short press release would be a bargain for companies that want to publish them.
Web content – Pricing will vary, depending on the length and depth of the site, but $50 to $75 per page is a VERY reasonable starting price.
Video scripts – Now is a great time to get into writing for online video and charging $80 to $100 per minute (in the video) would be quite reasonable.
The clients you're writing for
The size and nature of the businesses that you're writing for can also be factored in when setting your rates. A large tech enterprise or well-funded startup, for instance, will be in a better position to pay premium rates versus a struggling business that's barely breaking five figures a month.
Choose your target clients wisely. My advice? Go for large and lucrative industries. As an example, I've been writing for the B2B tech industry for over six years now, and I've encountered very few people who balked at my rates. (I started at $50 per post, now I charge up to $500 per post.)
Your experience and expertise
For obvious reasons, writers who have more experience and clout in their respective industries typically charge a premium for their services. Being published on other websites or publications (especially reputable ones) can also help you command higher rates.
As Bamidele puts it, "Being featured/published in reputable publications greatly increases your perceived expertise/value, which leads to an increase in demand for your services; the law of demand and supply kicks in, and more demand and increasingly low supply leads to higher prices."
Here's a pro tip: specialize in a few select industries. It's better to have 5 strong clips in a specific niche versus 10 writing samples that are "all over the place." High-quality clients — you know, the ones who are willing to pay top tier rates — prefer specialists and experts over generalists. 
3. Use industry tools to help you calculate your prices
Still need help figuring out your rates? There are several tools and databases that can help with that. Here are my favorites: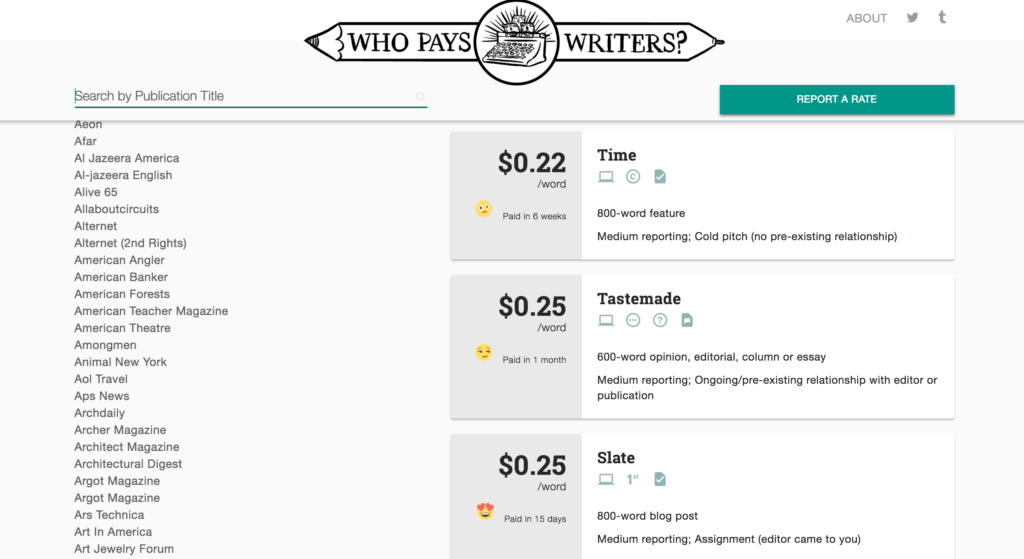 This site offers "an anonymous, crowd-sourced list of which publications pay freelance writers—and how much." Writers can submit reports that detail which publication they wrote for, how much they were paid, how quickly they received the payment and more.
It's a really handy database that can give you a better idea of how much other writers are earning. Do note that Who Pays Writers focuses on publications and not corporate assignments or copywriting projects.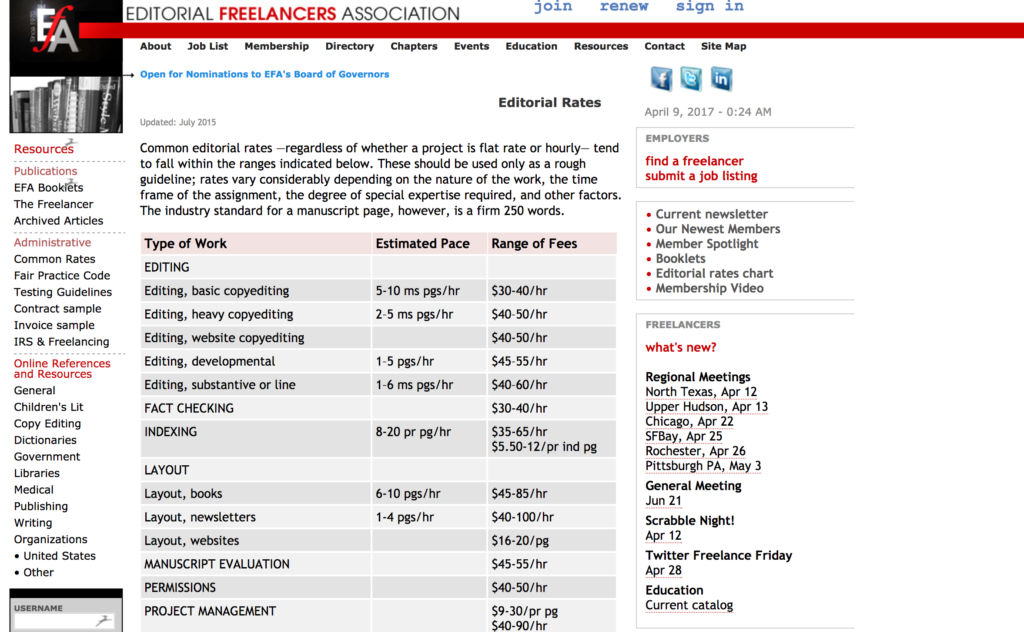 This table by the Editorial Freelancers Association lists common editorial fees for various projects. You can use the data on this page as a guideline when setting your fees.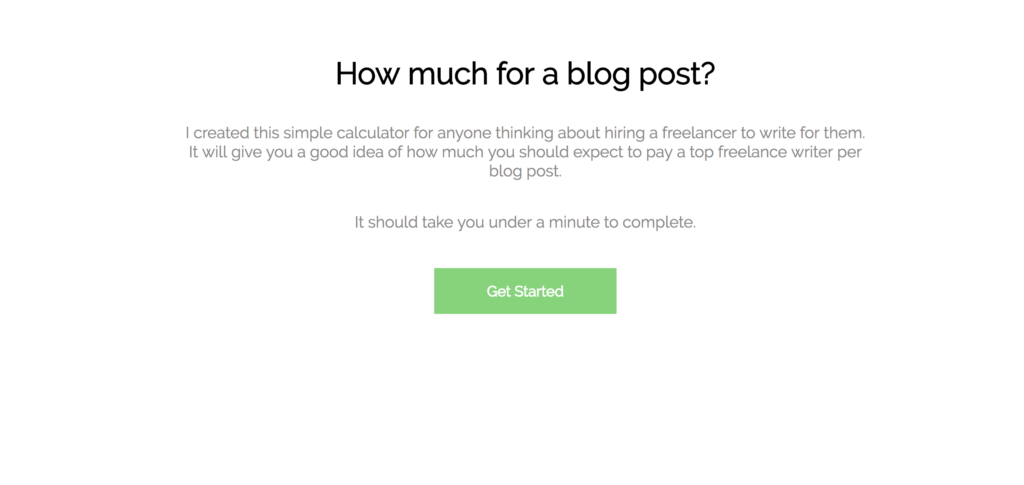 How much for a blog post? was created by freelance writer Dale Cudmore to give potential clients an idea of how much they should expect to pay per blog post. It asks a number of simple questions around the content that a client needs (i.e. length, the amount of research, formatting work) and based on the answers, the tool will provide an estimate of how much Dale would charge.
The tool is based on his own rates, but I've played with it a few times and the results are in line with what many top freelance writers would charge. Check it out!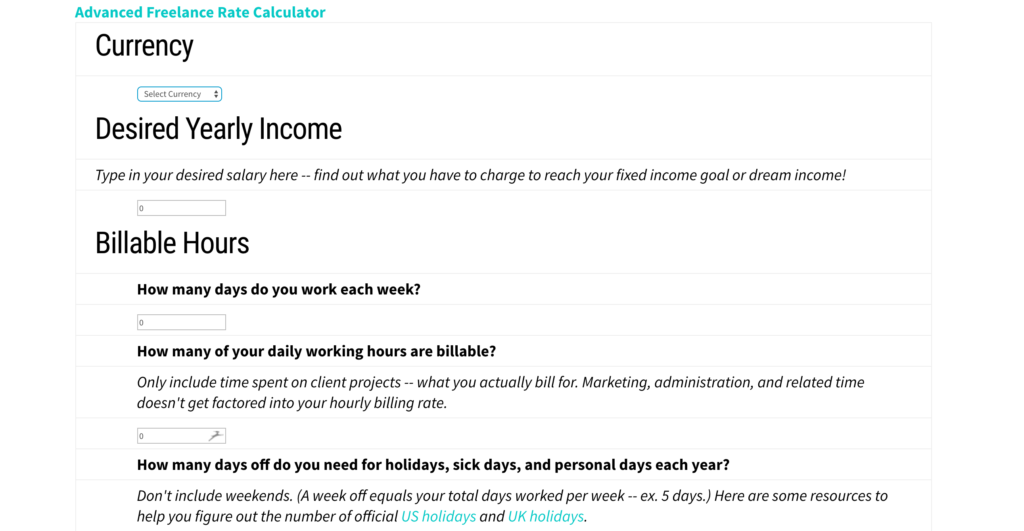 This calculator makes it really easy to figure out your hourly rate and billable hours. Just enter your desired salary, and then answer some questions about your work (and non-work) hours, and it will instantly calculate your hourly rate.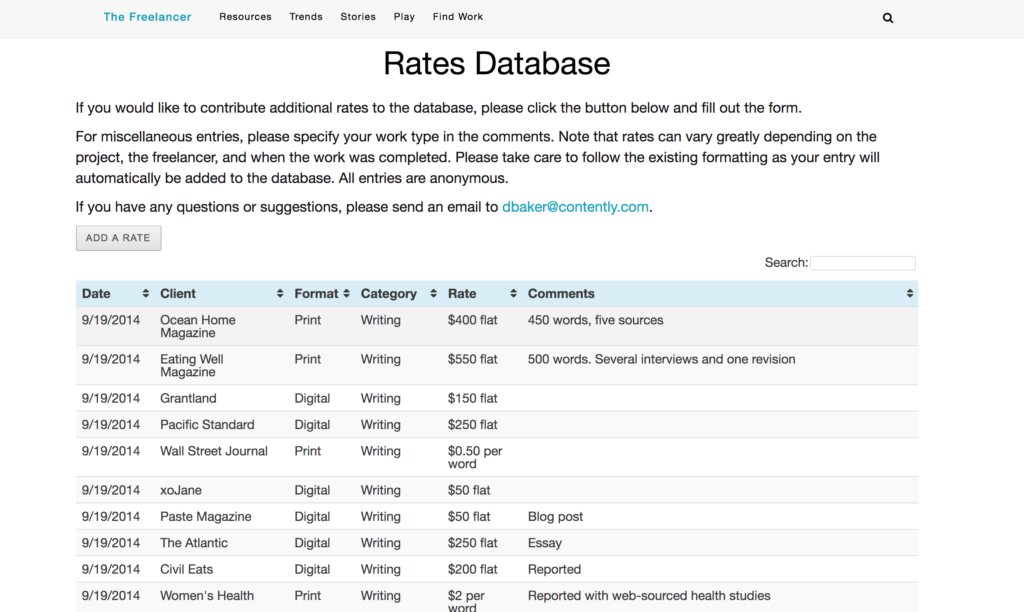 Similar to Who Pays Writers? the Freelance Rates Database by Contently is a site that lets users anonymously submit information about the projects that they've worked on. Note that while the majority of entries in this database are about writing assignments, you'll also find submissions from designers, photographers, and other freelancers.
So, how much will YOU charge?
Figuring out your rates can be tricky, but hopefully, this article gave you some clarity into the process. And if you're willing to share your rates (or how much you plan to charge going forward) feel free to weigh in below. It'll be interesting to have a discussion on freelance rates in the comments.