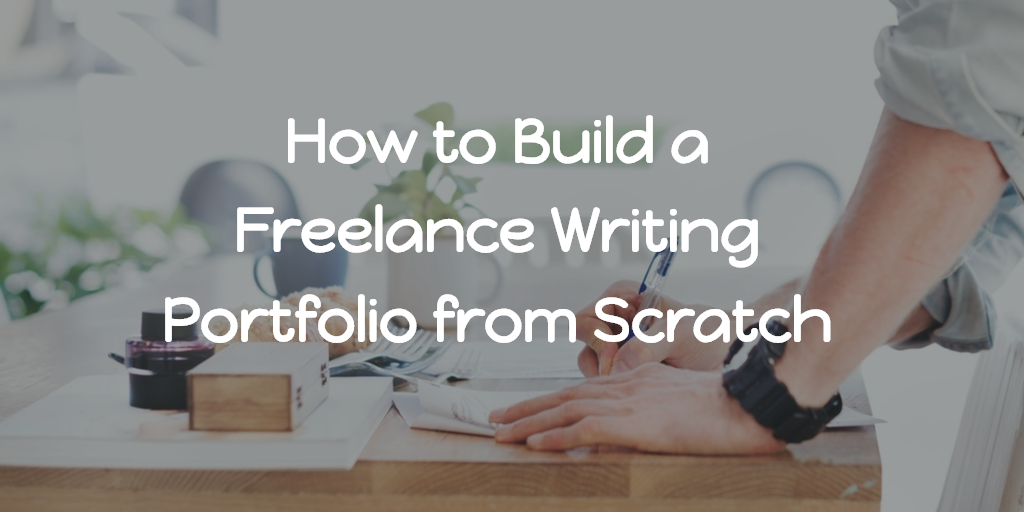 When you're a new or aspiring freelance writer, you're probably asking yourself, "How do I start freelance writing if I have no experience?" or "I don't have samples or anything relevant to put in my portfolio. Where do I start?"
I deeply understand these questions, not just because I hear them all the time, but because I know exactly what it feels like to come up with writing samples from scratch.
When I first started freelance writing, I compiled all the articles I wrote for my college's newspaper. Back then I thought that my samples would help get me through the door.
I was wrong.
No one gave me a second look.
So, I set aside my college articles and reinvented my portfolio from scratch. I did my research; I read books on freelance writing and studied what other writers were doing. Once I learned their techniques, I applied them to my portfolio-building efforts.
All that effort paid off. Soon, I had a handful of clips that I was proud to show off, and prospects loved my samples. I started landing gigs and beefed up my portfolio even more.
I want to help you achieve the same results. If you want to become a freelance writer, but don't know where to start, or if you want to build your portfolio, but can't come up with some writing samples, then this post is for you.
In the following paragraphs, I'll share 3 highly effective ways to create a compelling writing portfolio. And here's the good news: you don't need a website to pull this off. Yes, having a professional site and portfolio page is helpful, but it's they're not absolutely necessary (more on this below).
So what do you need? Time, patience, and decent writing abilities.
Let's get started.
No website? No problem.
Question: Do you really need to have a website to host writing samples?
Answer: Having a website or professional portfolio is ideal, but you'll survive without it. By all means, keep working on your site, but if you don't have one yet, don't let that stop you from going out there and pitching to potential clients.
If you're sending emails to prospects, for instance, just include the links to your posts in that email. For example, when I pitched this article to Entrepreneur, I didn't send the editor my portfolio. I just sent him links to my published articles.
Now, let's talk about how you can get yourself those links…
1. Publish on LinkedIn
LinkedIn has its own publishing feature that allows you to post original content on the site. I love this for two reasons — in addition to giving you a free platform to showcase your content, LinkedIn also allows you to get in front of relevant audiences (read: potential clients).
Let's start with the content platform. Getting published on LinkedIn is easy. Just click the "Write an article" button on the homepage and start writing. Once you hit publish, your article will appear on your profile and you'll get a link to send to prospects.
Here's an additional piece of advice when publishing on LinkedIn: pick a niche or industry to write about and stick to it.
For instance, I specialize in writing about the retail industry, so I made it a point to publish retail-centric content on LinkedIn. This allowed me to establish myself as an expert on the subject and connect with members of the industry (some of which actually ended up being clients).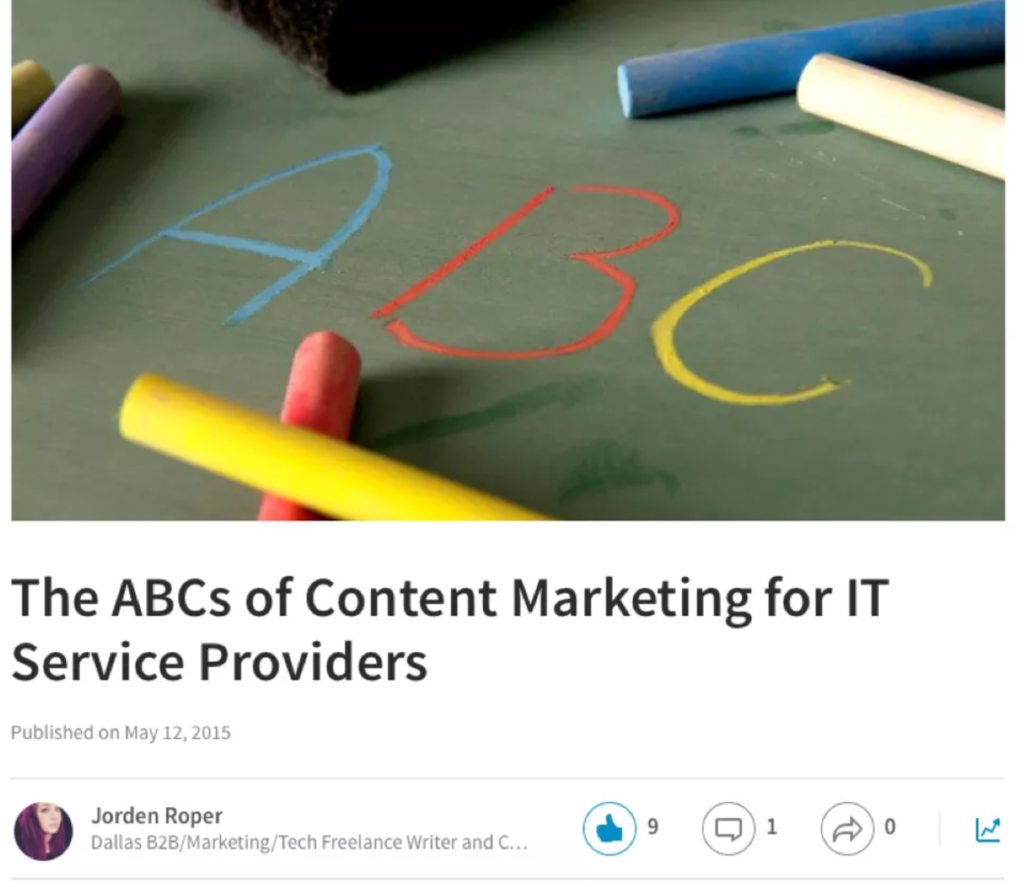 Here's another example that I love. Freelance writer Jorden Roper published LinkedIn articles geared towards IT service providers, and doing this not only gave her writing samples, but it helped her land great clients.
Promote your posts to attract readers… and clients
If you really want to get the most of LinkedIn's publishing platform, spend time promoting your posts.  
Doing so will help increase your readership. Plus, if you promote it to the right people on LinkedIn, some of those readers can even end up as your clients. This has happened to me numerous times.
Below are a few examples of messages that I've received from people who saw my content on LinkedIn and inquired about my services. (Some parts were blurred for privacy, but you get the idea.)

Want to similar messages in your LinkedIn inbox? Find a niche, consistently publish great content on that topic, then promote, promote, promote. Here's how:
Share it as a status update on LinkedIn

– Copy and paste your article's URL into LinkedIn's status box and hit post to share it with your network.
Share it in relevant groups

– Join relevant groups on LinkedIn and share the link to the post with group members.
Encourage industry peers to comment on your piece

– Tag or message your industry connections and invite them to comment or share your post.
Share it on other social networks

– Spread the using other social networks. Tweet your article and post it on Facebook and get as many eyeballs as you can.
2. Write guest post on other websites
One of the best ways to get your first few writing samples is to guest post on relevant blogs. Select an industry or niche that want to write about and then approach blogs in that space to see if they're accepting guest posts.
Below is a quick guide to help you find and land guest post opportunities.
a. Get some focus and clarity by creating a list of sites
A quick Google search for "top [insert industry here] blogs" should give you a solid list of websites that you can approach. You can also use tools like:
Alltop.com – Think of Alltop as a magazine stand that displays the latest headlines from various sources. Alltop curates information from different industries, and it's a good starting point if you're looking for blogs in any given niche.
Just enter a keyword into Alltop's search box and the site will display a list of relevant categories and/or publications.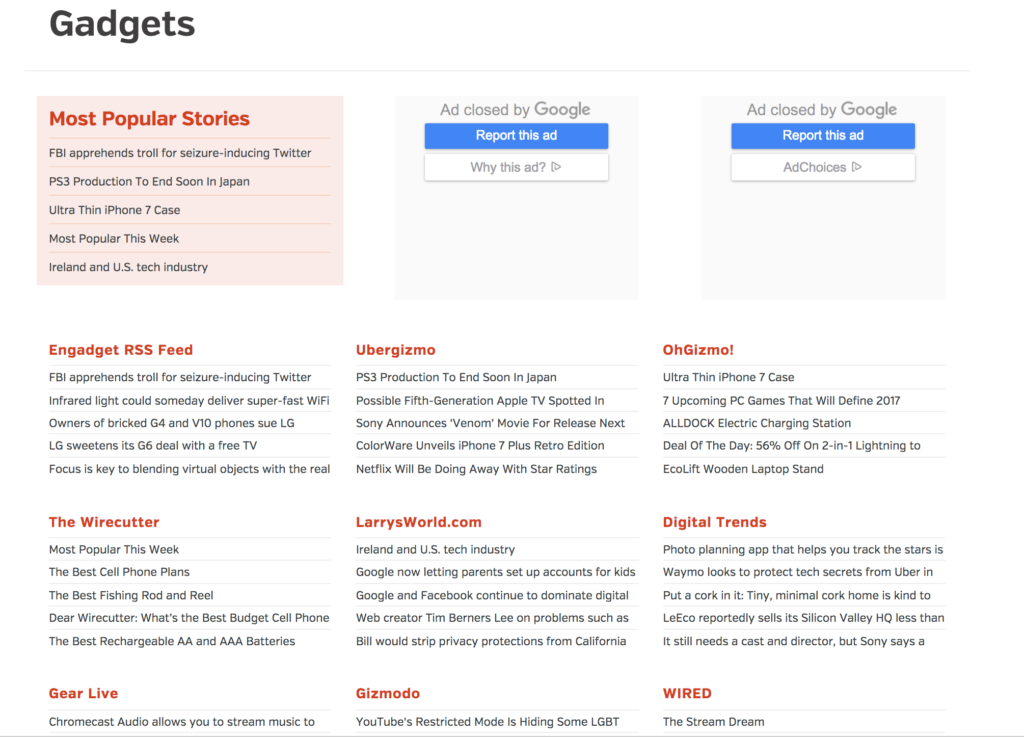 For example, if you were looking for blogs about gadgets and tech, simply search for "gadgets" or "gear" on Alltop and see what comes up.
Similarsites.com – Want to find websites similar to the ones you're already reading? Just type in the URL on Similar Site's search tool and the service will recommend websites relevant to the one you entered.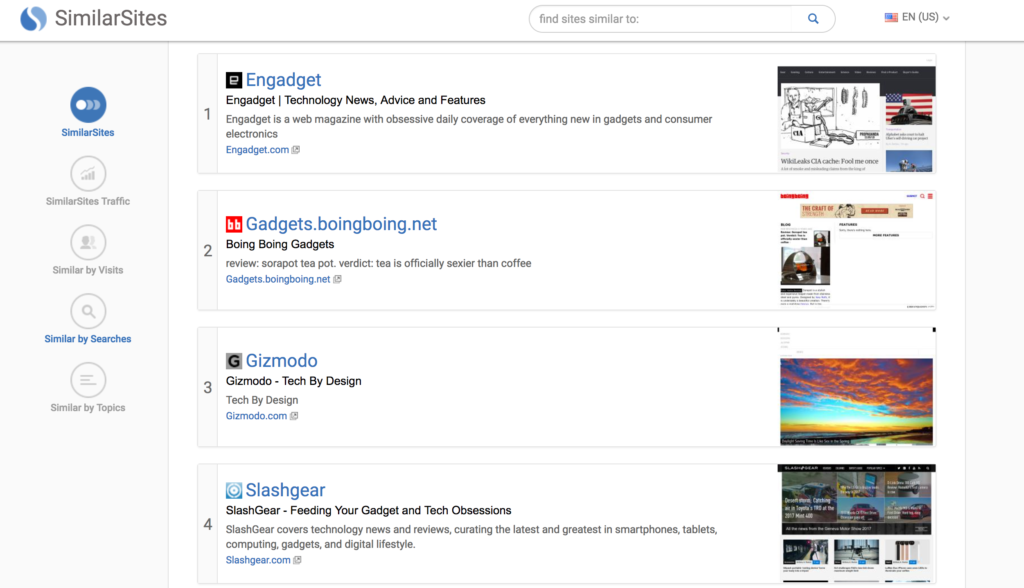 Let's go back to the example about gadgets. Let's say you're already following the gadget blog Ubergizmo. To find websites just like it, simply enter its URL into Similar Site's search box and check out the results.  
Taking this step will help you create a list of sites to guest post on.
b. Increase your chances of scoring a guest post gig by getting to know the site
Got that list? Cool. The next thing you should do is engage the site's owner (or in the case of larger blogs, editors). Make it a point to interact with them. Read their articles. Drop a comment here and there.
You'll gain a lot of insights and ideas simply by doing these things. Reading and commenting on the site's posts will help you spot patterns or trends in terms of what topics resonate the most with its readers.
Not only that, but making an effort to get to know the blogger/s running the site puts you in their radar, so by the time you approach them, they'll be more receptive to your guest post request.
Because here's the thing: bloggers are more open towards guest post ideas from those who have made the effort to build a relationship with them.
A common mistake people make when pitching guest posts is that they come up with an idea before they approach the site. From my experience both as a guest blogger and site owner, I can tell you that it's far more effective if you do it the other way around. You should get to know the blog AND THEN come up with ideas.
As someone who has accepted (and rejected) numerous pitches, I can always tell when a writer approaches me with an idea that was created without taking my readers in mind. On the other hand, when someone reaches out with a personalized and well-thought out pitch that references my previous posts or audience, then I know that they actually spent time on my site, and I'm more receptive towards their pitch.
c. Brainstorm ideas to incorporate into your winning pitch
It's time to come up with ideas to pitch to the blog. Now, if you took the time to explore and get to know the site, then it should be fairly easy to come up with a pitch that resonates with the blog's audience.
Often, simply reading a website's articles would stir up your creative juices and help generate ideas. But if you're still struggling to find the right topic, here's what I recommend:
Figure out the blog's content gaps.

Is there a particular topic or angle that the site hasn't covered yet? Maybe you could write about that.

Pay attention to reader questions and concerns.

Go through the comments section of the blog and find questions from readers. Pitch a post that answers those questions.

Look at current events.

Is there a trend or piece of news that the general public can't stop talking about? Use it as angle for your post.
d. Ready, set, pitch!
Pitching time! I wish I could say that there are some hard and fast rules when it comes to approaching blogs, but each one is different. The main thing to keep in mind here is to follow each site's guidelines.
Find the blog's contributor guidelines and take note of the following:
 How to contact the blog

(i.e. should you email them or is there a form to fill out?)

What format to use for the post

(i.e. Do they want you to send a Word doc or Google doc? Should you include an image?)

The pitch format

(i.e. should you give them an outline or do you need send the post in its entirety?)
Study those guidelines and follow them to the tee. For example, back when I accepted guest posts on BAFW, I had specific instructions on how writers should pitch me. I requested that they use a specific subject and asked them to submit an outline of their post.
One very successful pitch came from Alicia Rades. Check out her email below: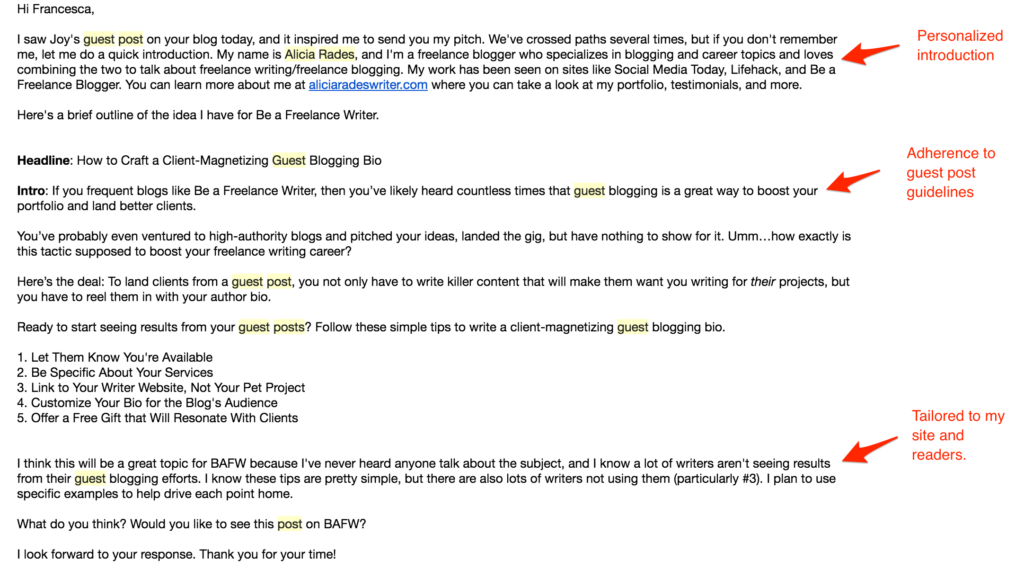 Here are the things I love about her pitch:
It was personalized. She talked about my blog and mentioned that we crossed paths several times.

She followed my guest blogging guidelines. She used the right subject line and sent me a detailed outline of her post.

She talked about my readers and why her idea would be a great fit.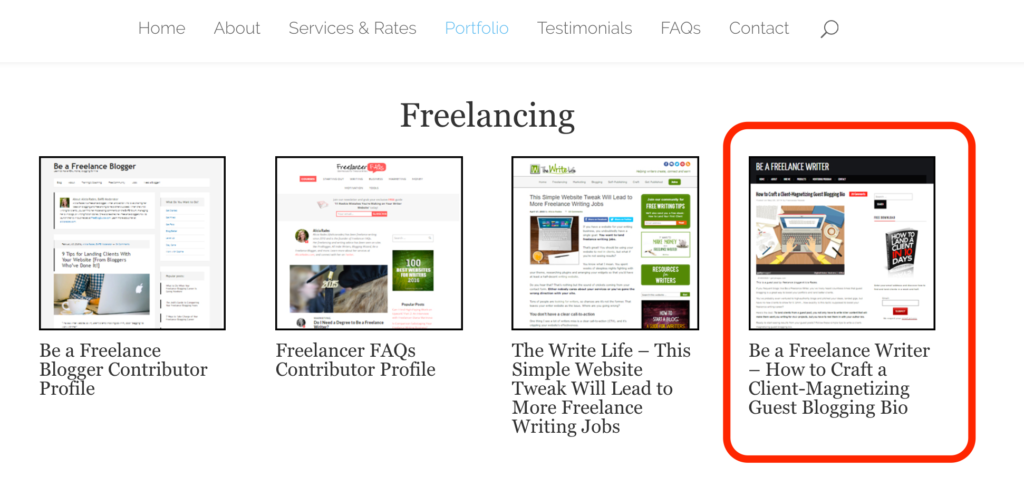 Accepting her pitch was a no brainer, and when she submitted a great post, I was happy to publish it. Alicia, on her part, got a writing sample for her portfolio.
e. Follow up
If you sent your pitch, but didn't receive a response, follow up within a week or two. Send them a note through their website, or reply within the original email you sent and say something along the lines of "Hi [NAME], I just wanted to re-send this in case my first email fell through the cracks…."
3. Work for free (at first)
I'm all for charging for your work and getting high-paying clients, but the reality is, when you're just starting out, you'll be hard-pressed to find companies that will pay you good money if you don't have any experience.
My advice? Offer to write for free. Approach businesses or websites in your industry, then introduce yourself as a writer who specializes in their field. Tell them that you're willing to provide your services free of charge in exchange for a portfolio piece and (hopefully) a testimonial.
For instance, if you're targeting companies in the financial industry, make a list of company's sites in that niche, and approach them with a pro-bono offer. Some of the services you could provide include:
Rewriting a page on their website

Publishing a blog post

Writing an email newsletter

Write a press release
How exactly should you approach pro-bono work? Here are the steps I recommend:
Create a list of potential clients

– Read

this post

to learn how to find those prospects.

Once you have a list of prospects, go through their website and marketing materials and find areas that need improvement

– For example, if their blog is outdated, offer to write a blog post or two. Did you spot grammatical errors on their site? Point them out and offer to rewrite their content.

Find the best person to approach

– Identify the best person to reach out to. Ideally, this would be someone in the marketing department. Get your hands on their email address and send them an email offering pro-bono work.
No luck finding companies?
If you can't find companies to work with, tap into your own network. Do you have friends or relatives who are starting a business or need help with content? Approach them and offer your services.
For example, years ago when my then-boyfriend (now husband) developed a mobile app, I offered to write the program's App Store description and I encouraged him to publish a press release (written by yours truly) to help spread the word about his app.
Doing this gave some great writing samples, which I then used to land paid gigs.
What about publishing on your own blog?
Writers often ask me if they can use their own blog posts on their personal site in their portfolio.
Here's my answer: While I'm not completely against using your personal blog posts, it's not my go-to portfolio-building strategy. Why? One reason is clients want third party validation. Having your content hosted by an industry website can offer that.
Not to mention, using your personal blog is… well, personal, and doesn't exactly scream "professional writer". You can do it, sure, but that same piece of content would look more attractive if it were on an industry blog or a professional site like LinkedIn.
That said, there's one exception to this rule; I think it's acceptable to use your own website post as a portfolio piece if you have an extremely popular blog with tons of comments and shares and the site you're running is relevant to the industry of your clients.
What's your favorite portfolio-building strategy
There you have it. My top tips for creating a portfolio even when you don't have the experience. Now I'd love to hear from you. Have you ever tried any of these methods? How did it work out? If you're new to this, which strategy are you planning to implement? Leave a comment below!