As someone who wears a lot of content hats (i.e. freelance writer/editor/content marketer/content strategist etc.), I've sent and received several LOIs and emails to potential clients. I've been on both sides of the writer–client relationship, and this has taught me a lot about what it takes to land a gig. I've also learned quite a bit about what writers shouldn't do when approaching potential clients.
Below are three common mistakes that writers make when communicating with prospects. Are you committing any of these when sending out pitches?
1. Providing little to no info on why they should hire you
Whenever I publish a job posting on writer forums, I get dozens and dozens of emails from interested writers. Unfortunately, the majority of those emails never get a response from me. Why? Because many of the messages I get look like this:

or this:

Too often, people respond to a job listing simply by saying "Yup, I'm interested. Tell me more." But here's the thing: simply expressing your interest in a gig is not enough. If you want (prospective) clients to even look at you, give them a reason to do so.
How? Do the following:
a. Mention any useful skills and/or relevant experience (and tie them back to the client's needs)
What exactly do you bring to the table that would allow the client to meet their content needs? What skills or experiences set you apart from other writers? Talk about them briefly and be sure to mention how they would help the client.
For example, if you're pitching to a company in the fast food industry, you could say something like:
"I spent a year working as a manager at McDonald's, and this first-hand knowledge and experience allows me to write unique and insightful articles filled with real-world examples."
Remember, the client doesn't just want to learn about you, they want to know how you can help them. So while you should definitely talk about your skills and accomplishments, don't forget to tie them all back to the client.
You should always assume that the person reading your email is asking the question, "What's in it for me?"
b. Send samples of your work
Providing clips when pitching to clients should be a no-brainer, but for some reason, many writers still send out messages without bothering to include a link to their portfolio. This is a no-no when you're trying to land high-paying gigs.
The client needs to determine if you're a good fit for the job, and it's impossible for them to do that without a sample of your work.
If you haven't built up your portfolio yet, put your gig hunting mission on hold, and compile (or create) those writing samples. Here's how.
If you need an example of what a great job posting response looks like, take a look at this email from freelance writer Jessie Kwak. As you can see in her message below, not only did Jessie mention her relevant experiences, she also provided links to her work and even shared an article idea.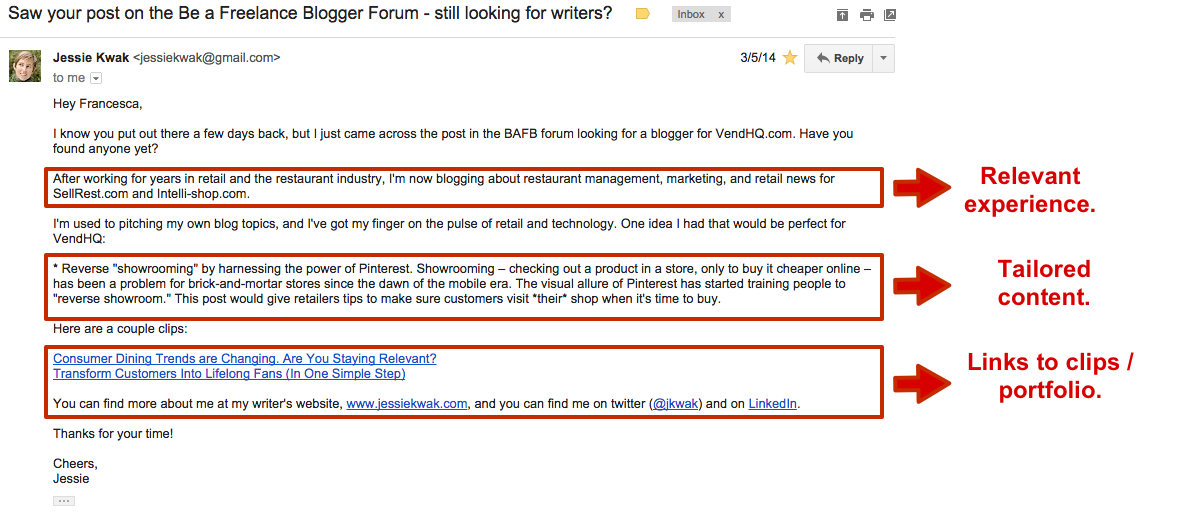 2. Having formatting issues in your email
We all know that spelling and grammatical errors are a turnoff, but what about the format of your email? Remember that how content looks on a page is just as important as the content itself.
That's why when proofreading your message for typos, also keep an eye out for formatting mistakes. See to it that font types, colors and sizes are consistent and paragraph lengths are optimized for readability.
I once made the mistake of sending an introduction email without properly formatting it and, boy, was it an embarrassing experience. Not only did I fail to land the gig, but the CEO of the company got back to me and pointed out certain parts of the email were in a different font. This made it obvious that I copied and pasted some of the things I wrote.
Look, there's nothing wrong with having a template for your pitches and LOIs. We send a lot of these emails so we're bound to say the same things again and again. But we shouldn't make that too obvious to the client.
It's important that you personalize each message by talking about the client and how you can meet their specific needs. And when you do reuse content from your other emails, see to it that there aren't any formatting issues that would give away the fact that you're re-purposing your words.
Another formatting mistake I've noticed writers make is having paragraphs that are way too long. When sending out messages, it's best to keep paragraphs within 4-5 lines unless it's really necessary. This helps you avoid creating "walls of text" that can intimidate readers.
Keeping paragraphs short and putting adequate spaces between them makes the content easier on the eyes and optimizes your message for readability.
3. Not reading (or comprehending) the job listing
Too often, writers respond to my job posting with questions that I've already answered in the post itself. For instance, I always include compensation details in my posts, yet many people still get back to me asking how much the job pays.
Or, I would get messages wherein the writer would talk about things that are completely irrelevant, making it obvious that they didn't read (or understand) my post.
Needless to say, these messages go straight to the trash.
Do not make the same mistakes. Spend a few minutes carefully reading every listing that you intend to respond to. Read each one twice, or three times if you have to. And when you write your pitch, reference the listing in your message so the receiver knows that you paid attention to what they wrote.
For instance, if the client mentioned that they need someone with experience in the medical industry, you could say something like: "I saw that you're looking for someone who knows the medical industry. I'd be a good fit for the job because I actually spent 3 years working with doctors at St. Jude's Hospital…"
The same goes for cold emails or introduction letters to clients. Gather intel on each prospect before reaching out. Visit their website, familiarize yourself with their business and customers, and use that information in the content of your pitch. In doing so, you're guaranteed to set yourself apart and impress the client.
Your turn
Do you respond to job listings and reach out to prospects? Tell us about your experiences in the comments.